I Did It My Way Creamed Spinach
Rita1652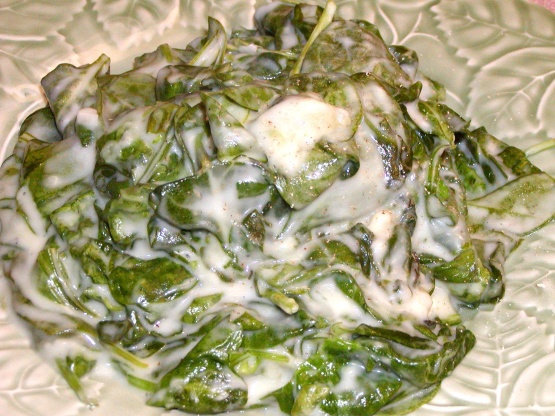 Another favorite recipe from Carol Gelles' 1,000 Vegetarian Recipes' cookbook. Try to use the freshest baby spinach you can find. Pre-packaged baby spinach is ideal as it is already picked over and rinsed. To cut down on the fat content use stock in place of all of the half and half cream. My addition to the spinach mixture is the freshly grated nutmeg, hence the name of this recipe.

I really like this recipe. I've made it twice lately. The first time, I ended up adding more half and half than called for as the dish sat on the stove a while before it was served and needed the add'l liquid to keep it at the right consistency. The second time, I used half the amount of butter and flour, and it was a thinner consistency and more to my liking. This is a great way to use fresh spinach and I love the flavor. Even my husband likes it, and he hates spinach.
In a saucepan over medium heat melt the butter. Add the garlic and cook, stirring about 15 seconds (DO NOT burn). Stir in the flour using wire whisk until the flour is absorbed.
Add the broth and half and half; continue to cook and stir with whisk until no lumps remain.
Add a pinch of nutmeg then the chopped spinach and salt. Cook, stirring frequently just until the spinach is wilted about 3 minutes.
Serve with a smile.