I-Crave-Rhubarb Crisp (With Strawberries!)
DuChick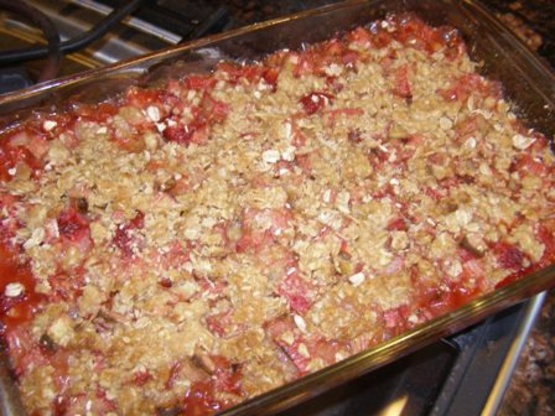 I adapted this recipe from one I saw in All You magazine. I reduced the butter, added some strawberries (though these could be left out), used whole wheat flour, and made it one large dessert instead of the individual ramekins. My hubby didn't think he liked rhubarb until he tried this! I'd been craving it, and this really hit the spot. I used frozen rhubarb since it's out of season, but fresh could be used as well. Very easy to make!

We love rhubarb-strawberry anything around here and this tasted wonderful! The only thing that threw me off was the texture. When I make it again, I'll keep the entire "crisp" portion for the topping. The bottom layer got rather soggy from the fruit filling. Nevertheless, it was entirely eaten up, with a scoop of 'nilla ice cream!
1. Preheat oven to 400 degrees.
2. Spray a 1 1/2 qt glass baking dish with nonstick spray.
3. FILLING: Combine all of the filling ingredients. You can either leave it as it is, or give it a few pulses in the food processor to smooth it out a little, if you like it smoother. Let mixture stand until sugar and cornstarch are dissolved, about 10 minutes.
4. CRISP: Pulse all of the crisp ingredients in a food processor until there are no butter chunks larger than a pea.
5. Put about 1/3 of the crisp mixture in the bottom of your baking dish and press down well.
6. Pour your filling over the bottom layer.
7. Top the filling with the remaining crisp mixture. You can leave it loose and uneven or smooth it out a bit.
8. Cook in oven until filling is bubbling and topping is browned, about 25-30 minutes. Cool on a wire rack 20 minutes or more (the longer you wait, the better it will keep its structure).
You can top this with whipped cream or ice cream, or eat as-is.