Soup Fly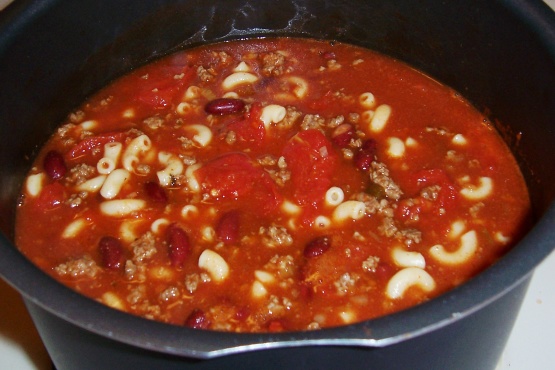 In my world, chili is whatever you want it to be - no rules, no arguments. I've had many people question whether or not this is "real chili" when they see it, but once they taste it they're just too busy eating to worry about it. This is a good basic recipe that can be easily modified to suit your taste. This is delicious as leftovers, but will be thicker the next day as the macaroni will absorb much of the liquid. It is VERY good this way, or you can add water when reheating.

Top Review by ZMiaJ
This was really good and very easy. The perfect comfort food for a cold day! I left out the crushed red pepper to adjust for my young daughter's tastes. It was still just a little too spicy for her so I put a second can of tomato sauce in the finished pot, which worked out very well. The entire family enjoyed it so I will definitely be making it again.
Brown ground beef in large stock pot.
Add onion, black pepper and salt while meat is cooking.
After meat is completely cooked, add stewed tomatoes, drained kidney beans and tomato sauce.
Stir throroughly.
Add additional 15 ounces (one can) of water, more or less, depending on whether or not you like thick or soupy chili.
Add desired seasonings to taste.
Allow to simmer while you prepare macaroni.
In separate pan, boil water and cook macaroni.
Drain macaroni and add to meat& sauce mixture.
Ready to eat immediately or you can leave it it to simmer on stove top until dinner time.
Sprinkle with shredded cheddar when in individual bowls, if desired.