Hvidløgssuppe (Garlic Soup)
Bergy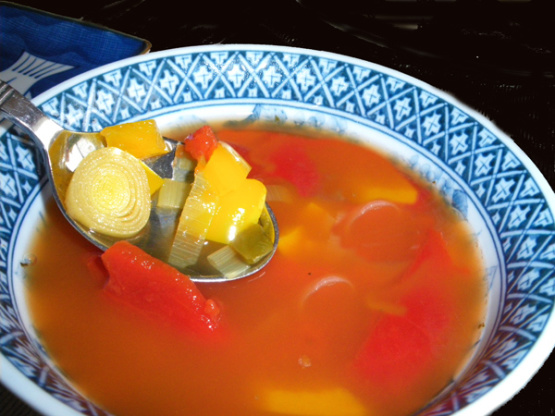 Posted for ZWT III - Scandinavia from Cookbookwiki. Untested by me.

Top Review by Bergy
This is wonderful I used the whole 15 cloves of garlic. For the Tomatoes I used Italian flavored and I added 1/2 tsp of cayenne instead of a pinch. left out the flour and used apple juice instead of wine The house had a wonderful aroma! This will be a regular Loved it Thanks Mandy for posting it
Sauté the chopped garlic quickly in the oil.
Add sliced leek, most of the parsley, and peppers.
Drizzle with the flour, stir well and add the tomatoes.
Add the stock and leave to simmer for 20 minutes.
Add the wine, bring back to the boil and season with salt pepper and cayenne pepper.
Puree with a blender (optional).
Drizzle with the rest of the parsley and serve with fresh toast.