Bev I Am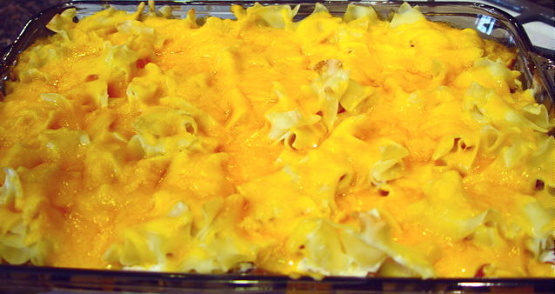 I made this for my husband and some guests, they could not stop raving about it ! It went really fast, so double if you are making for a crowd!

Top Review by cherir
Just made this tonight and all the guys raved! I did not have the tomatoes, so I added a 15 oz can of tomato sauce in place of it, and it was delicious! I made sure to cover the dish with foil so the noodles did not dry out. Will definitely add this to my "regular" recipes!
Preheat oven to 350°F (175°C).
Bring large pot of lightly salted water to a boil.
Add pasta and cook for 8-10 minutes, or until al dente; drain.
In a large skillet over medium heat, brown the ground beef.
Add the tomatoes w/ juice, salt and sugar and simmer for 15 minutes.
In a separate medium bowl, combine the sour cream, cream cheese and onion and mix well.
In a 9x13 inch baking dish, place half of the egg noodles, then all of the meat mixture, then the cream cheese mixture.
Top w/ the remaining noodles and sprinkle w/ cheese.
Bake at 350°F (175°C) for 25 minutes.