Husband's Blueberry/Cherry Dessert
alligirl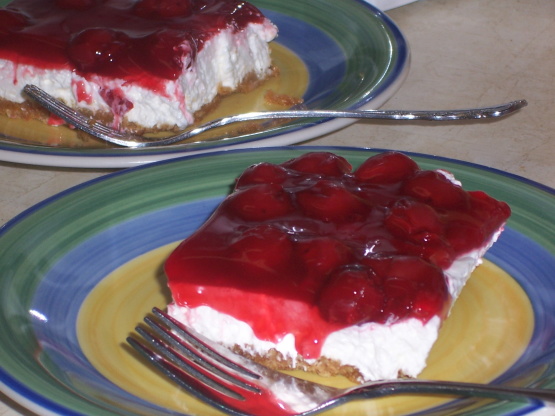 A most favorite of my husband and oh so simple. Who knew??

My DH loved this dessert too! I used graham crackers crumbs from the box and the cherry pie filling, DH's favorite. A very easy dessert to make and it tastes wonderful! I agree with one of the reviewers that mentioned it is very similar to cheesecake. Next time will use the blueberry filling which is my favorite. A nice dessert for summer get togethers! Made and reviewed for the Please Review My Recipe tag game.
Mix the 1st 3 ingredients together and bake for 8 minutes in a 9x13 baking pan at 325 degrees.
Cool.
Beat together the cream cheese, sour cream and sugar.
Fold in the cool-whip.
Spread over the cooled crust.
Top w/cherry or blueberry pie filling.
Refrigerate for two hours before serving.