Boomette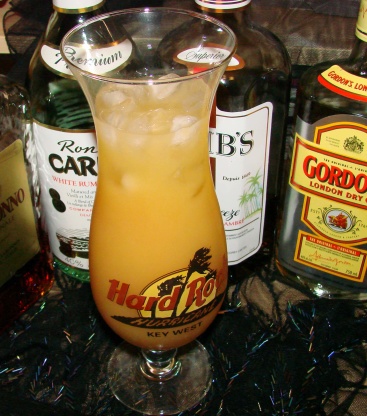 This is a drink from the Hard Rock Cafe. I don't really like sweet drinks and this one is not too sweet for me. But I have to mentionned that I always use unsweetened juice. The pineapple juice I use is Oasis. And for orange and grapefruit, it's Tropicana. And I don't always add the grenadine.

Top Review by Kim127
Yum! I doubled the juice amounts to one ounce of each. It was a little too potent for me with less. Still, I can see why they call it a hurricane. I'm done with anything productive today, lol. I didn't find this as overly sweet as the other reviewers but I may not have added as much grendine (used just a splash). Thanks Boomie - one of my favorite bartenders :)
Put ice in a Hurricane glass or a really tall glass.
Then add the white rum, dark rum and gin.
Add an equal quantity of pineapple juice, orange juice and grapefruit juice. (what I do is that I use equal quantity of orange and grapefruit juice, and a little bit of pineapple juice, all unsweetened).
Then you can put the amaretto on top.
Add grenadine. (I don't).
Garnish with a slice of orange.