Mercy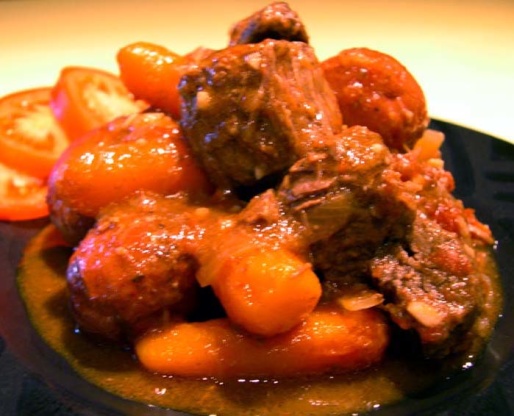 This is my brother's recipe adapted for the oven. When my brother goes out with his hunting buddies, he uses a disposable foil turkey pan with foil as a lid, combines the ingredients in the pan, places the pan over the coals at noon and it's done by the time they get out of the woods.

This recipe seems to be lacking a couple things the biggest of which is an oven temperature. Also it's called a stew but isn't put together like a stew. What I did was cut up small roast and browned it in a pot with some butter and flower. Then I put in 3 diced potatoes and a large onion. I didn't have any cabbage so I used a can of sauerkraut. I didn't have any salad dressing so at the end I ended up putting in some hot vinegar directly in my bowl. Overall it turned out really good but I think I probably made up over half of the recipe.
2267.96-3628.73

g beef roast or 2267.96-3628.73 g pork roast or 2267.96-3628.73 g venison roast

8

medium potatoes, peeled and whole

10

carrots, peeled and whole

4

onions, peeled and whole

453.59

g whole mushrooms

1

medium cabbage, cut into thick wedges

453.59

g bottlezesty Italian salad dressing

2

(609.51 g) can condensed cream of mushroom soup
salt and pepper, to taste
Brown the roast on all sides and place in a large Dutch oven or roasting pan with a lid.
Pile the vegetables on top of the roast and pour the dressing and soup over all.
Season with salt and pepper, cover, and bake for 2 to 2 1/2 hours.