loof751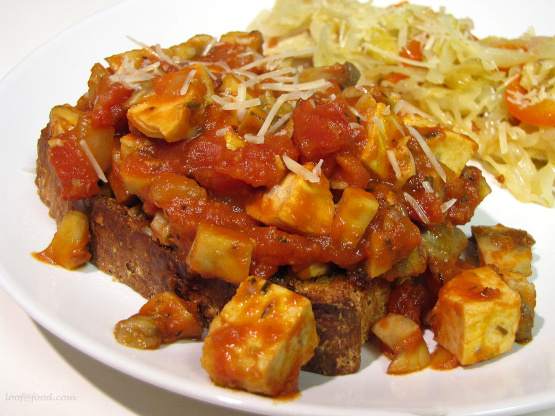 Kate Sherwood's recipe from the November 2012 issue of Nutrition Action Health Letter. Quick. Easy. Tasty. She says, "You can use dry white wine instead of vermouth." Per 1 1/2 cups serving, made with chicken breast: Calories 370; Total Fat 17 g; Sat Fat 2.5 g; Protein 29 g; Carbs 19 g; Fiber 3 g; Sodium 400 mg.
Sauté the chicken in 1 tablespoon of the oil in a large, deep skillet until browned, about 3 minutes per side. Remove and set aside.
Sauté the onion and the mushrooms in the remaining 3 tablespoons of oil until they start to brown, 8-10 minutes. Stir in the tomato paste and cook for 2 minutes. Add the vermouth, diced tomatoes, and thyme. Simmer until the sauce thicken, about 10 minutes.
Chop the chicken and stir it and any juices to the skillet and gently cook through.
Season with pepper and up to ½ teaspoon of salt.