Hungry-Man Bloody-Mary Burgers and Spicy Broccoli
rpgaymer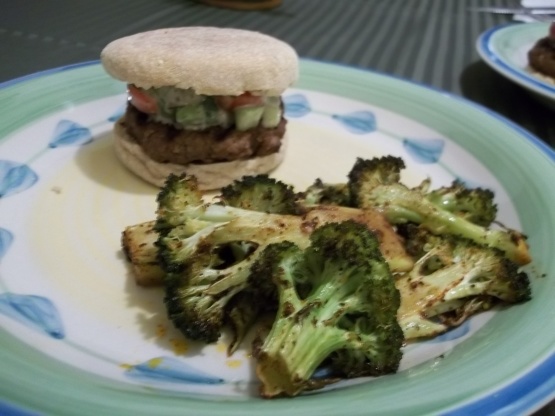 Rachael Ray, 'Book of 10'
Well this was just awesome. The flavor really does have the essence of a bloody mary, which is great for bloody mary lovers. I was thinking of serving it with a different side dish, but I'm glad I didn't because the broccoli was really good too! Using english muffins instead of buns was also a nice change of pace. I did end up cutting the burger ingredients in half though, but I still made 4 patties. 1/4lb burgers were more than enough for us. Thanks for this sharing this recipe.
Preheat the oven to 425°.
Place the 1/4 cup olive oil, garlic, chili powder, and a little salt and pepper in the bottom of a large bowl and add the broccoli spears.
Toss to coat the broccoli evenly, then transfer to a large nonstick baking sheet.
Roast the broccoli until the ends are crisp and brown and the stalks are tender, 17-20 minutes.
To make the burger topping, in a bowl, combine the chopped celery and the grape tomato halves with the dill, parsley, lime juice, and mayonnaise.
Use the back of a fork to smash up the tomatoes while you incorporate them into the sauce.
In a mixing bowl, combine the ground sirloin, horseradish, celery salt, Worcestershire sauce, hot sauce, and a little pepper.
Mix thoroughly.
Score the meat with your hand marking 4 equal portions.
Form each portion into a large 1-inch thick patty.
Preheat a nonstick skillet over med-high heat.
Drizzle oil over the patties and place them into the hot skillet.
Cook for 5-6 minutes per side, until the patties become firm to the touch and are cooked through.
While the burgers are cooking, toast the English muffins.
Remove the burgers to the bottoms of the toasted muffins, add some of the celery-tomato topping, and then cover with the muffin tops.
Serve the spicy garlic broccoli alongside.