Hungry Girl Cinn-A-Nilla Apple Oatmeal Parfait
Kathy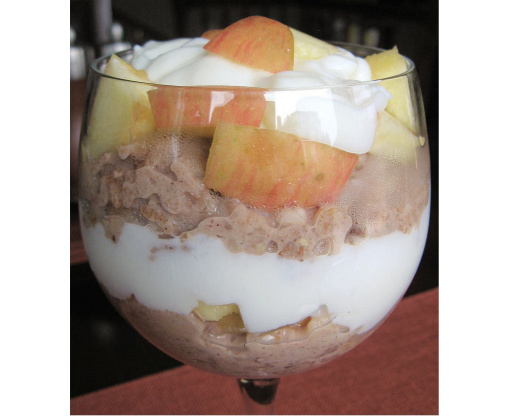 The first time I made this recipe, it was okay. I wasn't thrilled about it because I found that I like my oatmeal warm, not chilled. The second time around, I skipped the chilling step, ate it warm, and was much happier with the results.
Combine oatmeal ingredients in a small nonstick pot. Add 3/4 cup water and mix. Bring to a boil, reduce heat and simmer 9 minutes. Stir often. When thick and creamy, removed from heat. Cool slightly. Refrigerate until chilled (1 1/2 hours).
In a small bowl, combine yogurt with 1/8 teaspoons cinnamon. Set aside.
Stir oatmeal until uniform in texture. Spoon half into a tall glass, top with half the yogurt and half the chopped apple. Repeat.