Hungarian Rice With Meat (Husos Rizs)
szabo5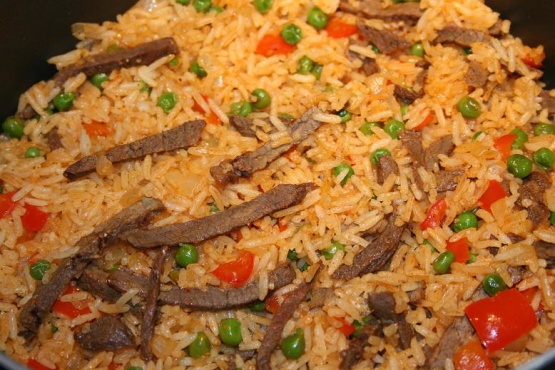 This is a great way to use up leftover rice and meat from a previous meal, and tastes great! I like to serve this in a bowl with some vinegarette salad on the side. Frugality is popular in Hungary, so even leftovers are brilliantly used to recreate dishes. This is our version of "fried rice." I also like to put taco sauce or tomato juice into the mix for added flavor.

Nice and easy, but definitely the kind of dish that stops the munchies dead in their tracks. My differences in the recipe were using boneless pork ribs for my meat (they come out very tender when you follow this recipe), and adding some additional spices. I used 1/2 tbsp. hot Hungarian paprika (I enjoy spicy), 1/2 tsp. red pepper flakes, 1/2 tsp garlic powder, 1/2 tsp caraway seed, 1/2 tsp. celery seed. The paprika and seeds made for a nice aroma, and an even better taste on the meat.

I would advise some to sautee the ingredients on medium heat if using an electric stove to save time, as low heat didn't quite do the job for me. Other than that, I followed your directions, and it made for an awesome accompaniment to leftover borscht from the night before. Very much like a plov type dish, and that is definitely a good thing in my house. A quick dish that I will be making again!
Using a medium-sized sauce pan, saute onions and bell pepper in oil on low until onions are clear.
Add meat, paprika, and stir for few seconds.
Add peas, chicken broth, some salt, and cover for a few minutes. Check if peas taste cooked.
Add cooked rice, and salt to taste. Mix thoroughly, and heat on low until rice is at desired temperature.
Optional: add 2-4 taco sauce seasoning packets from your favorite fast food restaurant or 1/4 cup tomato sauce and heat with rice.