Hungarian Poppy Seed Cookies
Saturn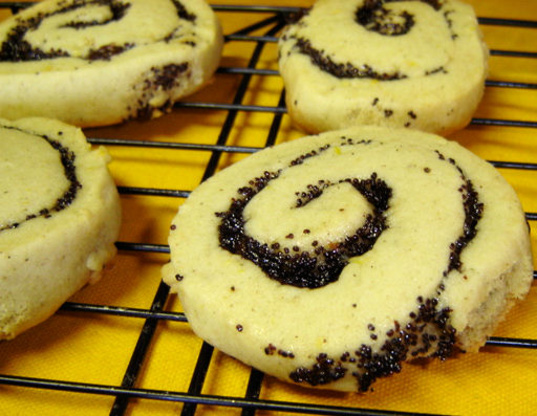 Posted for the Zaar World Tour 2006-Hungary. From the "Best of Baking" cookbook. Lemon peel, clove and poppy seed often flavor Eastern European cookies. Poppy seed filling can be found next to the canned pie filling at the supermarket.
LOVE these cookies. My son had a "Multicultural Parade", and I know nothing about Hungarian cuisine, but my husband found this recipe. First of all, I love butter cookies. Secondly, they are the yummiest butter cookie I have had in ages, with great texture! The only thing i would do differently is make the poppy seed paste myself. The canned stuff isn't so healthy. But, for our purposes worked and tasted great. Thanks for sharing. These cookies are our favorites now!
In a large bowl, beat margarine or butter and granulated sugar until light and fluffy. Beat in lemon peel and egg. Stir in flour, baking soda and cloves, mixing well.
Roll dough, between two pieces of waxed paper, into a 1/4-inch thick, 12"x10" rectangle. Refrigerate 30 minutes or until firm.
Heat oven to 350ºF. Grease a large cookie sheet. Remove waxed paper from one side of cookie dough. Spread poppy seed filling on dough to within 1/4-inch of the edges. Roll up dough tightly, beginning with long (12") side, peeling off waxed paper as dough is rolled. Pinch edge of dough to seal well. Cut dough into 1/2-inch slices. Place on cookie sheet about 1-inch apart.
Bake 10 to 12 minutes or until edges are light brown. Cool slightly; remove from cookie sheet. Sprinkle with powdered sugar.