Bergy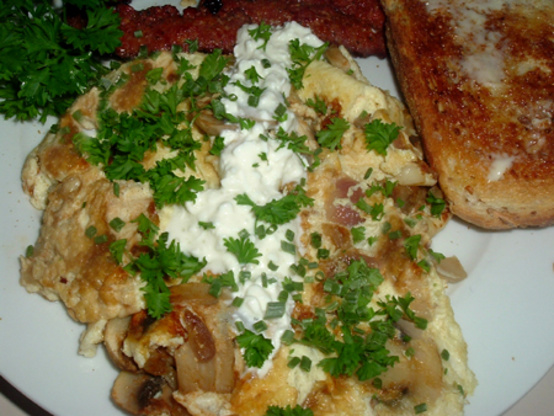 From "Prairie HOme Cooking" a book I picked up at the library but its on my Christmas wish list. Make sure to use the SWEET Hungarian paprika not the hotter more bitter kinds.

I followed the directions exactly and this didn't work for me. When I added the paprika it soaked up all of the butter and clumped up and burned. I think there was just too much paprika and it might have worked with half the amount, but as it was the end result was inedible. Sorry.
Heat butter in a large skillet over medium heat.
Add the onion and saute til golden, 8-10 minutes.
Add mushrooms and paprika.
Cook, stirring occasionally til mushrooms start to wilt about 5 minutes.
Whisk egggs, salt and peppers in a small bowl.
Reduce heat to low.
Pour in the egg mixture over the top of veggies in the skillet.
Cook omelet slowly for about 10 minutes, or until done enough to flip over without running.
Flip and cook 3-4 minutes on the other side.
Cut omelet into wedge and serve with a dollop of sour cream and sprinkling of parsley and green onion.