Hungarian Noodle Casserole
Parsley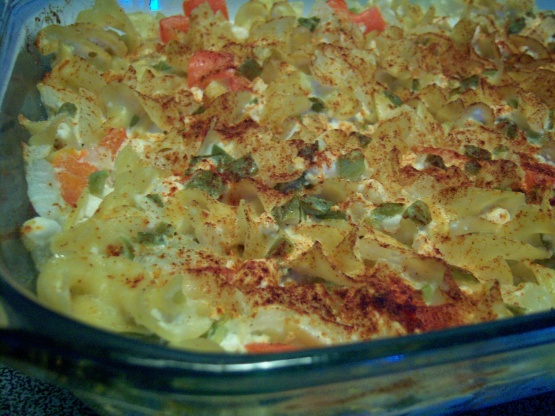 Noodles with green peppers and onions. Typical peasant dish.

I don't prefer writing bad reviews but this dish is a terrible waste of good food. The presentation is terrible due to the cottage cheese & the flavor amounts to almost nothing. I had half a serving & tossed the rest in the garbage disposal. I made it because the reviews were very good & it did sound interesting. I would suggest you save the noodles for alfredo sauce, the onions & peppers for a salad, the cottage cheese to mix with some pineapple & the yogurt for an afternoon snack. I wish I had.
Preheat oven to 375 degrees. Lightly oil a 7 X 11 inch baking pan or spray with a nonstick cooking spray.
Cook noodles according to package directions. Drain.
While noodles are cooking, heat oil in a large nonstick skillet over medium heat. Add onion, bell pepper, and garlic. Cook, stirring frequently, until onion begins to brown, about 10 minutes. Remove from heat.
In a large bowl, combine cottage cheese, yogurt, paprika, salt, pepper and onion powder. Mix well. Add onion mixture and cooked noodles. Mix until well combined. Spoon mixture into prepared casserole. Press noodles down gently with the back of a spoon.
Sprinkle with paprika.
Cover and bake 25 minutes. Uncover and bake 5 minutes more.