Hungarian Nokedli (Dumplings)
Ms*Bindy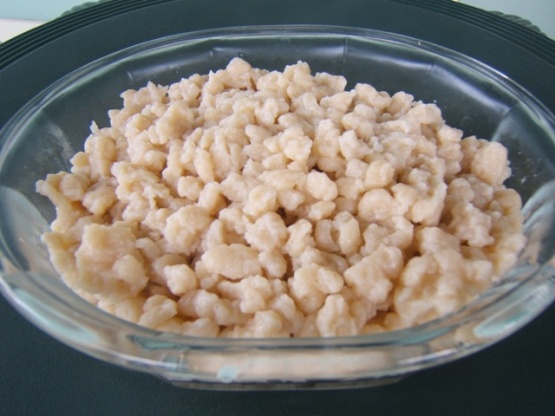 You must have nokedli with your chicken paprikas. Also make these little fluffy delights for stew or any dish with a nice thick gravy.
This is my second attempt at making Hungarian noodles..the 1st time (not this recipe) I found using the spoon process a pain to do and slow since the dough cooks fast in the water.This basic recipe is great and one of the reviewers of this recipe made it even better.They said they used their pasta pot strainer to make these and I have one so I tried it and wow it was quick and easy making a bunch of these delicious noodles in a flash.Much quicker then using a spoon I can tell you that since the strainer and the action of pressing the dough with a spatula acts like a spaetzle press. It pairs great with my porkolt recipe.Thanks for great reviewer idea and to the recipe submitter.
Place large pot filled with salted water and bring to boil.
Combine eggs, salt, and water, beating well with whisk.
Add flour, a little at a time.
Add only enough flour to make a soft, sticky dough.
Let mixture rest for about 10 mins.
Beat mixture again.
Using the side of a teaspoon, spoon small amount of dough into boiling water.
Dipping the spoon in the hot water will remove the dough from the spoon (if you have a spaetzel maker, that makes is easier as you want very small noodles).
The noodles are done when they float to the top.
Remove from water with large slotted spoon, and place in colander.
Rinse with cold water.
You may want to make the dumplings in 2 or 3 batches so they dont overcook.
Serve with chicken paprikas.
The dumplings are also nice added to a stew.
You can heat the dumplings in a frying pan with melted butter.
Do not let the dumplings get too brown or crisp.