karen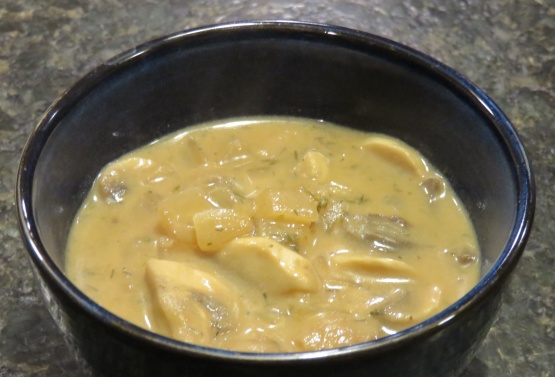 Be sure to use the Hungarian sweet paprika instead of the smoked in this....it just works better with the recipe.

Top Review by karen
I should make soup more often, especially if it's as easy as this recipe with such tasty results. This recipe really couldn't be easier. I started it and then made the rest of my meal while it was simmering at the end and by the time the soup was finished, my whole dinner was ready. You really can taste the dill and onion in this mushroom soup. I followed the directions with just a couple of minor tweaks. I only had button mushrooms in the house and was initially worried that it wouldn't have as full of a flavor as if I went with portabella and shiitake mushrooms, but I had a full cup of stems from making a stuffed mushroom recipe a couple of days ago and combined them with some sliced button mushrooms. They added a lot of heartiness to the dish though I'm sure it would be even better if you went with the recommended mushrooms. I also realized after I add it that I used 2 tbsp fresh lemon juice (1 small lemon) rather than a tsp and I used dried parsley instead of fresh. I did have to double up the flour to get it to thicken up, but that might have been due to me using some frozen homemade veggie broth and adding a bit too much since I threw it in frozen rather than defrosting it first. I know it sounds like I made a lot of changes but they really didn't affect the integrity of the dish. If you like soup and like mushrooms, you should give this a try.
Cook the onion in butter in a large Dutch oven over medium heat, stirring constantly, until tender. Add the flour, stirring well. Cook for 1 minute, stirring constantly.
Add the mushrooms, 1/2 cup beef stock, and the next 6 ingredients (paprika through black pepper). Bring to a boil; cover, reduce heat and simmer 15 minutes.
Gradually stir in the remaining 1 1/2 cups beef stock, milk, and parsley. Cook over medium heat, stirring constantly, untiil the mixture is thickened and bubbly.
Ladle into soup bowls and garnish, if desired.