alinasls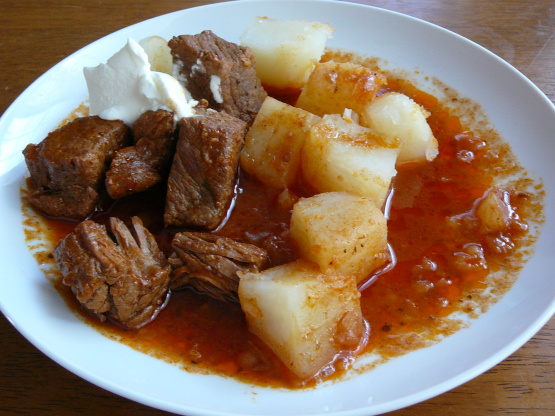 I have made this for over 25 years-this is real old-fashioned comfort food, if you like the taste of paprika.

This is good, and I'll make it again. I agree with the reviewer who said it needed to be spicier. I wouldn't say "spicier," as much as more flavorful. I had goulash in Hungary and it was much richer. I think the cider and caraway seeds are necessary additives to perk up the flavor, and probably extra paprika and salt. Nevertheless, I made other Goulash recipes from this site and this is the best so far. To make spaetzel (or whatever you call the dumplings), mix 1 c flour with 3 eggs and a little salt (less than 3 eggs and they're sinkers, not floaters). It will be sticky and very thick. Drop by cohesive shapes into the boiling goulash (if they're not well formed, they'll fall apart and turn into flour that thickens the goulash instead of dumplings). They're done when they float.
Salt and pepper beef, and shake on some paprika.
In Dutch oven, melt butter and brown meat over medium heat.
Add onions, garlic, green pepper, vinegar, tomato sauce, balance of paprika, caraway, marjoram, and water.
Stir well.
Simmer, covered, until meat is tender-about 11/2-2 hours.
Add more water if needed.
Serve over hot noodles, adding a dollup of sour cream if you wish.