Annacia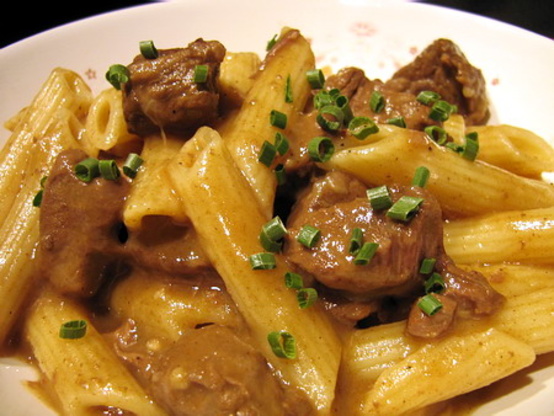 This is my mom's rendition of grandma's recipe. It is yummy and tastes even better the 2nd day! :)

I made this recipe for the guys in my home (I very rarely eat red meat). I as a bit concerned about the thinness mentioned and didn't want to serve it that way so I got around it by cooking the pasta in the stew instead of adding it after it was cooked. That worked very well indeed. What surprised me was that the ketchup loving guys thought that in this case it added too much sweetness (pick me up off the floor now!) and that they thought they would like it made with tomato sauce better. The recipe works beautifully and the meat comes out butter tender. I topped the servings with a bit of chives. Made for Photo Tag.
Brown 2 lb. beef cut in 1" pieces in 4 T. oil.
Add and brown lightly onion and garlic.
Add ketchup, Worcestershire, vinegar, paprika, salt, dry mustard, cayenne, and bay leaves.
Add boiling water; cover and simmer 2 to 2-1/2 hours. Remove bay leaves.
Thicken with 2 Tbsp flour in 1/4 cup cold water.
Cook rigatoni according to box directions, drain, and add to stew.
This will be soupy when first made, but the pasta will absorb this by the following day.