Mark P.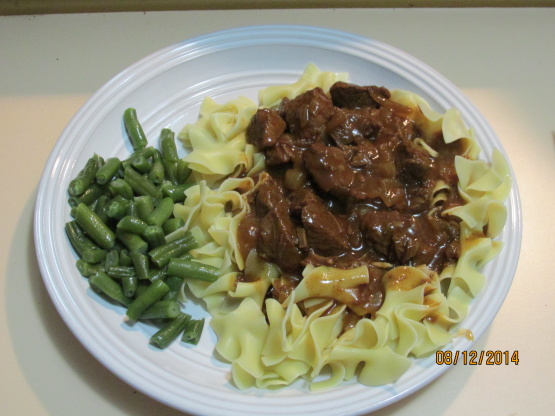 The best Goulash I have ever tasted. I found this recipe in a old 1956 Cutco cookbook

This is a very hearty recipe but it does not feed 8. I doubled it and it did not feed my crew of 8 and we are not big eaters. I also felt it was very sweet. Having lived in Europe, I would not say it is very authentic. Otherwise, it was simple with okay flavor.
Brown meat on all sides in heavy fry pan or Dutch oven; add onion.
Combine mustard, paprika, brown sugar, salt.
Combine Worcestershire sauce, vinegar, ketchup; add to mustard mixture; add to meat; add 1 cup of the water; stir; cover.
Cook over low heat 2 hours or until meat is very tender.
Blend flour with remaining 1/2 cup of water; stir until thickened.
Boil noodles in salted water until tender; drain.
Serve meat mixture over noodles.
Eight servings.
I sometimes use corn starch instead of flour to thicken.Also can be done in a pressure cooker instead of dutch oven as in step 4, to cut time.