Parsley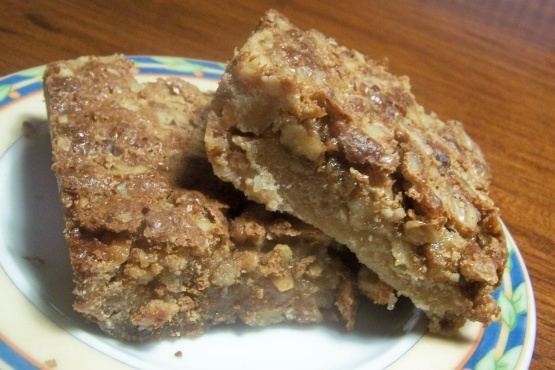 Posted for the Zaar World Tour 2006-Hungary. I haven't tried this recipe, but it seems to be a very quick and easy cookie to make. These bars are sticky and gooey and similar to a walnut pie.

This is an excellent treat and easy to make as all reviewers have mentioned. I made a mistake and added a total of 4 eggs, which turned out very well. Just a hint of a custard taste to enjoy! Also, we took plunge and actually put this in a 9" pie pan. Again - excellent results. We used chopped walnuts for the nuts. Unlike one reviewer, I did not find this treat too sweet. It is sweet yes, but with a cup of unsweetened tea it is such a simple delight. We're not sugar hounds around here and thought the sweetness was just right. Tip: I used my immersion blender to quickly froth the eggs in a bowl. (Remember, I used four eggs by mistake.) Thank you Bayhill!
Preheat oven to 325ºF. Grease a 9" square baking pan; set aside.
In a medium bowl, cream together 3/4 cup of the brown sugar and the margarine. Add vanilla and flour; mix well. Pat this mixture into the bottom of the baking pan.
In a small bowl, beat the eggs until foamy. Add the remaining 1 cup brown sugar; mix well. Pour into the pan over the first mixture. Sprinkle the nuts evenly over the top.
Bake at 325ºF for 30 to 40 minutes, or until center is no longer jiggly. Cool completely before slicing. Slice into 2-1/2"x1-1/2" bars.