Hungarian Beef Goulash Aka "porkolt"
szabo5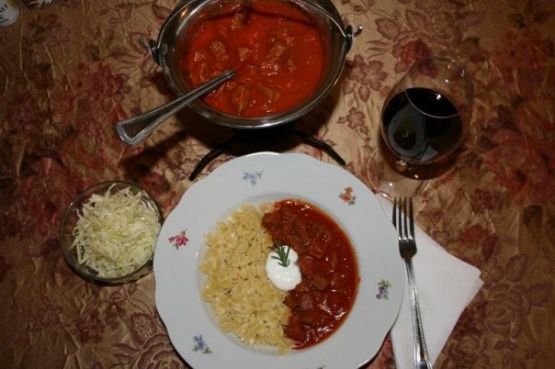 I took the original Hungarian version that my parents taught me, and added my own flare. I hope you like it as much as I do. For best results, use real Hungarian Paprika found in grocery or international food stores. This dish is best served with noodles, and preferably a traditional Hungarian cabbage salad.

I made this last night and it was absolutely delicious! I am first generation Canadian, my father was born in Nyiregyhaza, Hungary, and both his parents were from Budapest. I have eaten Porkolt as a routine dish growing up and enjoy making it now, but I just had to try this rendition...and wow! From now on this is how I'm going to make it. It's not that different from the original version I grew up with, but the red wine does add a nice verience. Thanks for this awesome recipe! Btw, I only required 2 cups of water. 2 thumbs up!
Saute beef, onions, bell pepper, and ground cumin in oil until onion is near falling apart over medium-low heat, adding water if needed. Blend in paprika, and add enough water to cover beef.
Cover and reduce heat to low.
Cook for 1 1/2 hours, or until beef can be separated with wooden spoon, stirring and adding water occasionally.
Add "Vegeta," or beef buillion, tomato sauce, pressed garlic and wine. Blend and let simmer for another 5-10 minutes.