Hummus With Toasted Pine Nuts, Cumin Seeds and Parsley Oil
twissis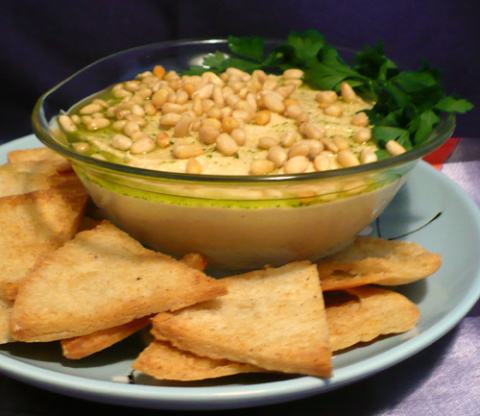 Hummus is so common today it's almost become a little boring. Not this version! The starchiness of the chickpeas is counteracted by the sharpness of the parsley oil. Plus the bright green oil makes for an great presentation. Found this recipe in The Gourmet Cookbook.

Made as written for ZWT6, this is excellent hummus & made even better by the parsley oil + pine nuts atop the chickpea mixture. Both added texture variants & made for a lovely presentation. For just 2 of us, I decided to make a half recipe. Then it got a bit tricky because the can size here is 14 oz & all ingredients had to be adjusted accordingly. My magic bullet made quick work of both mixtures & the hummus was smooth as silk. Only at the end as I was doing the final touches did I realize I'd made an error. The cumin seeds had disappeared into the whizzed smooth hummus. Those who esp like a heavy garlic presence can afford to increase the amt listed. I served it w/toasted pita triangles I brushed w/olive oil & sprinkled w/garlic powder, so I got my extra garlic fix that way. Thx for sharing this tasty & easy-fix recipe w/us. :-)
Preheat oven to 350º F; position rack in the middle of the oven.
In a food processor or blender puree 1/4 cup parsley with 1/4 cup oil oil.
Strain oil through a fine-mesh sieve, pressing hard on the solids;discard solids. Set aside.
Toast pine nuts and cumin seeds in a small pan in the oven until golden brown (about 8 minutes); stir occasionally.
Let cool.
Combine 1/2 cup chickpeas with garlic in a food processor until garlic is finely minced.
Add tahini, water, lemon juice, salt, remaining chick-peas, and remaining 1/2 cup olive oil and puree until smooth.
Strip leaves from remaining parsley sprigs.
Divide hummus between two shallow dishes and smooth tops.
Drizzle with parsley oil and scatter parsley oil, pine nuts and cumins seeds over tops.
Salt to taste and serve with pita toast.
NOTE:.
Hummus and parsley oil can be made up to 3 days in advance and refrigerated. Be sure to bring the oil to room temperature before using.