The base hummus recipe is one of my favorite recipes from Mark Bittman's, How To Cook Everything. One day I realized that I didn't have enough olive oil so used the oil from a jar of marinated artichoke hearts. My husband loved it so the next time I added some artichoke as well as the oil to the recipe. We like this combination and hope others do as well! This is excellent with crostini.
2 cups chickpeas, drained (canned or well-cooked)
1⁄2 cup tahini (sesame paste)
1⁄4 cup oil, from a jar marinated artichoke hearts
2 small garlic cloves, chopped
salt & freshly ground black pepper
2 teaspoons ground cumin
1⁄2 cup marinated artichoke hearts
1 lemon, juice of
1⁄4 cup water
olive oil, as needed
Directions
Place everything except water and olive oil in the container of a food processor and beginn to process; add water and olive oil as needed to make a smooth puree.
Taste and add more garlic, salt, lemon juice, or cumin as needed.
Serve, drizzled with a little olive oil and sprinkled with a bit of cumin.
Most Helpful
I was hesitant to review this because I knew I was going to reduce the oil considerably, and use fat-free artichokes from a can. Given that, though, I think this turned out great! I loved the cumin/artichoke combination. When making hummus at home, you can cut out a lot of the fat. This makes it less smooth, but healthier. Instead of using the water, I used liquid from the can, which I thought sort of preserved the idea behind this recipe, and I definitely recommend using more lemon juice! Thanks Diplo-mom:D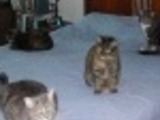 This recipe was delightful! 15 min. prep time was about right. I wondered how big a difference the artichoke hearts/marinade would make; the result was a lighter, brighter-tasting hummus. The spices from the artichoke marinade were pleasant, and did not overwhelm the other flavors. I made the recipe as listed, with the following adjustments: I used 2 (rinsed) cans of chickpeas, both for more quantity and for a greater chickpea-to-tahini ratio, just as a matter of personal taste. I ultimately used the juice of 3 (small) lemons, which seemed to play up the bright taste. I did add a bit more cumin, oil and water: about 1/8 tsp. more cumin, 1 Tbs. more olive oil, and 1 Tbs. more water, to reach the consistency we like. I also added a sprinkle of cayenne, because my family likes a little heat in most things! This was delicious served with toasted pita points, red bell pepper strips, carrots and celery. My DH absconded with the leftovers for his lunch yesterday and today!