Nif_H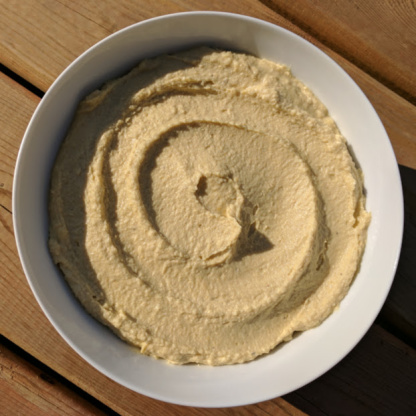 I don't usually care for hummus, but when I tried this at my friend's I couldn't stop eating it. It's important to use fresh lemons, extra virgin olive oil, and high quality garbanzo beans--you don't want ones that start out crunchy. I served this with Lavosh bread that was brushed with olive oil, sprinkled with salt and pepper and baked at 350F for 8-10 minutes.

I cooked my own garbanzo beans and made my own tahini (toast sesame seeds, careful not to brown them or they are too bitter, blend with olive oil) and thought this was some of the best hummus I've eaten! I only added 1 t of cumin and thought that was enough for my taste. Thanks for the great recipe! Next time I think I'll add roasted red peppers!
Blend first four ingredients with juice from 2 lemons in food processor until smooth and creamy, about 5 minutes.
Add blend in remaining ingredients starting with 4 cloves of garlic.
Taste and adjust seasoning as needed.