Hummus W/A Tomato Twissis Twist (My Invention) - Zwt-8 (India)
twissis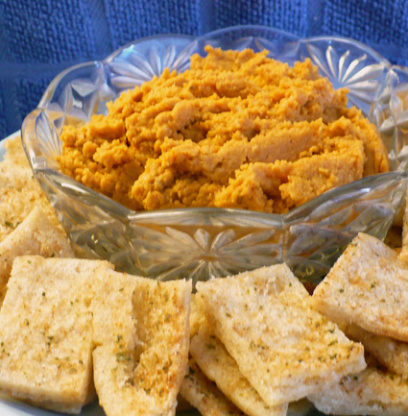 Submitted for play in ZWT-8, the starting-point of this recipe was a basic hummus recipe I found in a sml cookbook I got at Heilsustofnun NLFI (An Icelandic health spa). I chg'd it up a bit to suit our taste preferences & then added my "Twissis Twist". It's an easy quick-fix that has proven itself & is freq requested by our family & friends. The end-product is thick & I suggest reserving the liquid drained from the canned chickpeas to thin it as desired for your intended use. This recipe is also easily halved, but I've never done that as it's usually made for occasions & disappears quickly. Yield was estimated - I just never bothered to ck that because I was happy. 10 min was allowed for ingredient assembly & 5 min for prep. *Enjoy!*

Definitely a nice "twist" on traditional hummus. I used a sun-dried tomato pesto and I added additional lemon juice and a touch of cayenne. Served this today with some sea-salt pita chips. Made for the "Four Your Consideration" tag game.
Drain & reserve the liquid from the canned chickpeas & rinse thoroughly. Allow to drain again of any excess water.
Combine all ingredients in a food-proc, whiz to a thick paste & add reserved chickpea liquid to achieve desired consistency. Taste & adjust to suit preferences. Done!
NOTE #1 - I use my hand-held stick blender for this recipe w/a very lrg wide-mouth glass jar (screw-on lid). I add 1 can of the drained & rinsed chickpeas to the jar w/the rest of the ingredients & whiz til fully combined. Then I add the 2nd can of chickpeas as a final step. Ck to be sure all chickpeas have been macerated. Most popular w/guests & family has been to serve this w/olive oil & garlic-flavored pita bread triangles crisped in the oven. I also sprinkle a bit of dried parsley on them for color & I always make the hummus & pita crisps at least a dy ahead of intent to serve.
NOTE #2 - You can vary the flavor twist by also using dry taco seasoning mix in an amt to suit your taste preferences.