awalde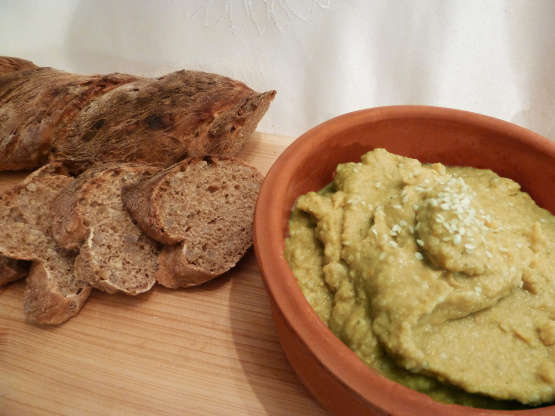 A popular middle-eastern dip/spread.

As Pets said, I thought the lemon was a bit too much, but my dh--the hummus junkie--said that it was fabulous, and that the lemon just enhanced the flavor even more. I followed the steps exactly, passing the garbanzos through a food mill first, and then processing in the food processor....the resulting product was smooth, creamy and delicious! Thanks Evelyn! :)
Pass the chickpeas through a ricer, or mash well with a fork.
With a mixer, beat the chickpea puree, tahini, garlic, 3/4 cup of the olive oil, lemon juice (start with the 2/3s of the juice, and add more to taste - we like it lemony!), cayenne pepper and salt to taste.
Serve by spreading the dip in a thin layer over a plate, drizzling with the remaining olive oil, and sprinkling with cayenne pepper.