gailanng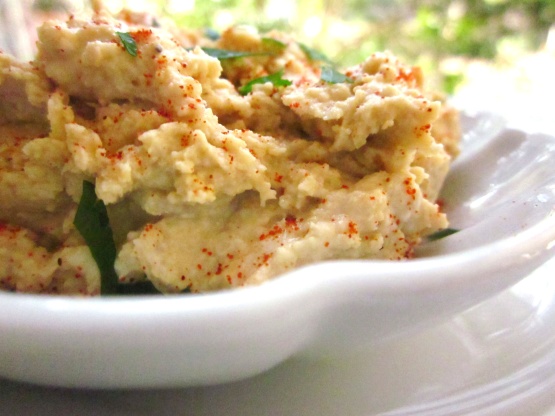 Rich, Smooth,Healthy! Serve with toasted pitas. Quick and Easy! Use as a spread for sandwiches. Spread on toasted rye topped with ripe tomatoes. Also add diced red peppers or hot peppers. I try to keep this low in fat if you do as well check out French Tarts Review.

Easy and delicious! I spread the hummus on a plate, and drizzled with extra virgin olive oil, then garnished with a sprig of parsley and a sprinkle of paprika. The ingredients are right on...I didn't change a thing! Thanks for a great recipe!
Place the garbanzo beans, tahini, lemon juice, salt and garlic in a blender or food processor.
Blend until smooth.
Pour olive oil into feed tube over the garbanzo bean mixture to make a smooth mixture.
Transfer mixture to a serving bowl.
Adding additional oil as needed.
Sprinkle with paprika and parsley.