Linky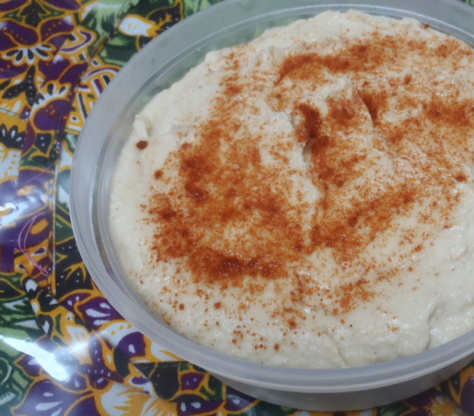 Simply the best, easiest recipe ever. Delicious and makes enough to feed 4 adults and still have some left over for lunch the next day. Preferably make a day prior to being needed as flavour develops on keeping.
1

cup chickpeas

2

lemons, juice of, to 3
1⁄2-1 cup virgin olive oil

3 -4

tablespoons tahini
salt, to taste
Soak chickpeas over night.
Cover well with water and bring to boil.
Cook till soft.
Drain and save some of the cooking water.
Place in blender of food processor and mix till well blended.
Add Tahini, lemon juice and 1/2 cup oil.
Process further.
Add further oil and cooking water till desired consistency is reached. The mixture will thicken further on sitting.
Add salt to taste.
Serve with pita bread and riata.