Hadice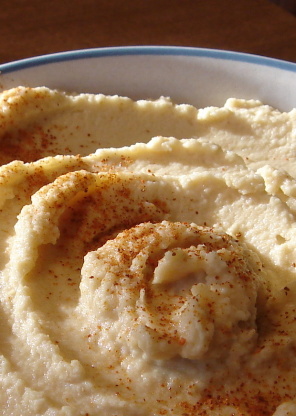 I love hummus and always have, but back in the day (reaallly back) I was unable to get tahini very easily, so I came up with a substitute (the sesame oil). Sacrilege I know, but it still tastes great! I got so used to it I am now too lazy to get tahini, heh heh. You can certainly substitute if desired. My kids have loved it since they were little and used to call it "moose". They will inhale it by the bowlful. Serve with pita breads or as a side condiment for grilled meats. Extremely healthy and good for you as well (Even the olive oil is a monounsaturated fat - one of the best). I will sometimes even add more garlic and olive oil (I'm Cypriot in background which means you can never use too much olive oil...)

I liked the flavor, it was great with pita chips and veggies too. I followed the recipe as written.
In a food processor, combine lemon juice, garlic, cumin and about a quarter of the chickpeas, blend till smooth.
Add the remaining chickpeas, blend, add sesame oil and olive oil, blend, and add salt and pepper to taste. You might have to blend in batches depending on the size of your food processor - just divide ingredients by amount of batches.
Blend till smooth and creamy - my olive oil amount is approximate so add more or less for desired consistency.
Scrape into a serving bowl, sprinkle with cayenne and cilantro or parsley, and Kalamata olives if desired (not necessary, but they go killer with hummus).