Hummingbird Feeding Solution
Barb G.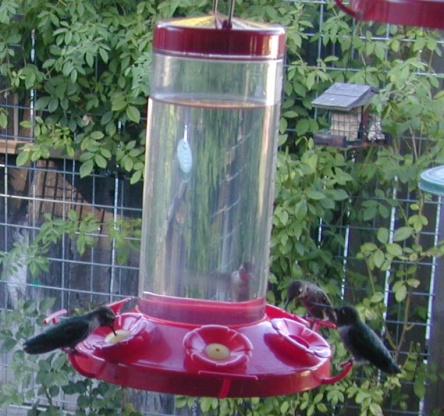 I thought I would post this recipe for Hummingbird Feeding Solution, because it took me a while to find it!
I have been thinking that hummingbirds need more nourishment than sugar water. They love the little gnats that we see around a bowl of fruit. I saw a protein feeder somewhere and it had where you could put fruit in it and there is an opening that the hummingbird can fly up and eat the little gnats. I guess they love it. I kind of made my own by cutting the sides out of a plastic container and hanging it up. I just put it up the other day so I'm not sure how it's doing. Check it out. I've been feeding hummers for a long time and just discovered it..
Combine sugar and water in a saucepan and bring to a boil.
Boil for 2 minutes.
Cool completely.
DO NOT add food coloring to water!
Fill your hummingbird feeder and keep remaining feeding solution in the refrigerator up to one week.