Humble Strawberry Rhubarb Crumble Pie
CoffeeB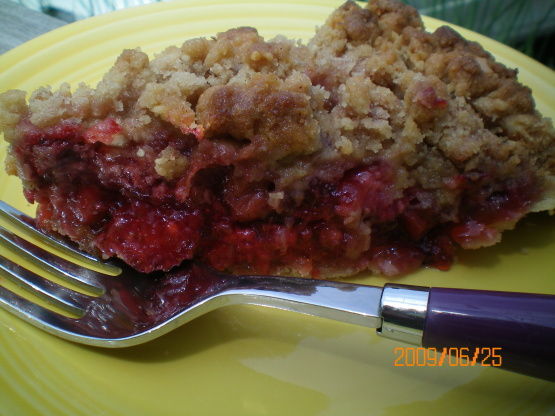 Found in Woman's Day magazine March 2008. I am waiting for some great fresh rhubarb to hit our farmer's market and then this recipe will be made! I like the idea that it is a pie and not just a basic crumble - so it should hold up better when serving.

Outstanding - this is one of the tastiest pies I have ever made! I used frozen strawberries and rhubarb that I had leftover from the summer, and it turned out beautifully. I measured the 4 cups of each while they were frozen, thawed them out, and drained off the excess juice before I mixed the filling together. The crumble topping is also great - very crunchy and tasty, but not too sweet. And the almonds are a nice bonus! Enjoy everyone :)
Preheat oven to 425F and place a rack in the lower third of the oven and line a baking sheet with foil.
Prepare pie crust and place in a 9-inch pie plate.
Prepare filling: Mix all fill ingredients in a large bowl and let rest for 15 minutes, stirring occasionally.
Prepare topping: Mix flour, sugar, and salt in a bowl. Using your fingers, rub in butter until mixture forms clumps. Stir in almonds.
Spoon filling into pie shell and sprinkle evenly with topping.
Place pie on lined baking sheet and bake 15 minutes.
Turn oven down to 350F and bake 1 hour longer, until fruit is bubbly and topping is brown and crisp.
Let cool on a wire rack for at least 20 minutes before serving.
Optional: you can top each slice with vanilla ice cream before serving.