Hully Gully (Frito Chili Salad)
Chef floWer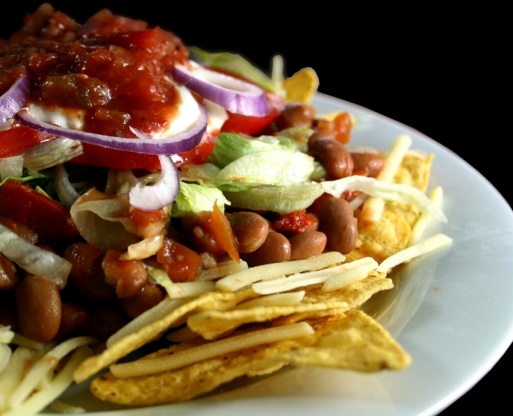 This stunning and delicious salad was a staple at the Wheat's household. I must give the credit for that. Man, one plate of this stuff is NEVER enough! Form a serving line and let everyone build their own; chatting in "line" is half the fun of this meal.

Top Review by megs_
LOVE this salad! :) I used a can of chili. skipped the onions, and used low fat ranch instead of sour cream. SO YUMMY! Even my toddler ate this salad happily. I think next time I might add jalapenos to the top of mine b/c I like extra spicy! It's a keeper... already put the leftover chili up so I can enjoy this tomorrow! Thanks for sharing!
Cook your chili first.
While the chili is simmering, chop your lettuce, tomatoes, and onion.
Stir a bit of garlic salt in to the sour cream (it adds flavor and makes it more creamy).
Grate your cheese if it's not already grated.
Pop the top on your salsa and serve right from the jar if you wish.
Place the ingredients in separate bowls in a serving line fashion in this order: plates (big is good), chips, cheese, chili, lettuce, tomatoes, onion, sour cream, and salsa.
To serve: Chips go on the plate first, then the cheese. When you put the chili on top of that, the cheese will melt. Then the cold stuff on top -- lettuce, tomato, onion, sour cream and salsa.
I don't need to say, "enjoy" 'cuz I know you will! Kids LOVE this!