Nif_H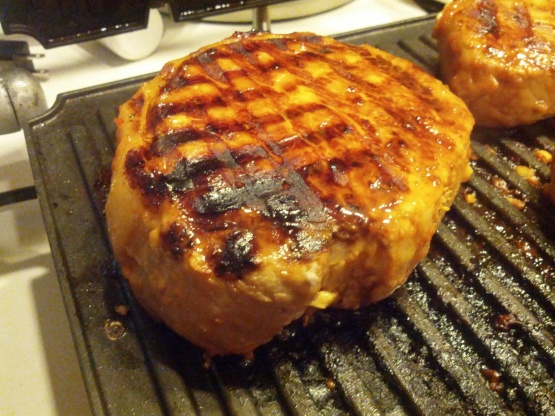 This is a recipe from Better Homes and Gardens, and we thought it was terrific. The recipe says it can be used for chicken, too. But we stuck with the recipe as it was written and used pork, and it turned out perfect. Prep time includes the minimal marinating time.

I followed the recipe but cut boneless pork into cubes and grilled it on skewers. It marinated for about 6 or 7 hours and was nice and tender after 12 minutes or so on the grill but a bit too tomatoey for us. I'll use this as a starting off point, though, and try a bit more acid next time. All in all a good recipe, thanks!
Place pork in a large, heavy zip-lock plastic bag set in a shallow dish; set aside.
For marinade, in a small bowl combine ketchup, soy sauce, brown sugar, wine (or lime juice), ginger and garlic. Remove 1 cup of the mixture to a small bowl; cover and chill until needed. Pour remaining mixture over pork; seal bag. Marinate in refrigerator for 4 to 24 hours, turning bag occasionally.
Drain pork.
FOR CHARCOAL GRILL, arrange coals around a drip pan. Test for medium-high heat above the pan. Place pork on grill rack over pan. Cover and grill 20 minutes. Brush with 1/4 cup of the reserved marinade. Cover and grill 15-20 minutes more or until an instant-read thermometer registeres 155°F when inserted into thickest part of the meat. FOR GAS GRILL, preheat grill. Reduce heat to medium-high. Adjust for indirect cooking, and grill as directed above.
Remove pork from grill. Cover pork with foil and let stand 10 minutes before slicing. (The pork will rise another 5°F during standing.).
Meanwhile, place reserved 3/4 cup of marinade in a small saucepan, and heat through. Pass the sauce with the pork.
Garnish with lime wedges and sprigs of fresh herbs.