WiGal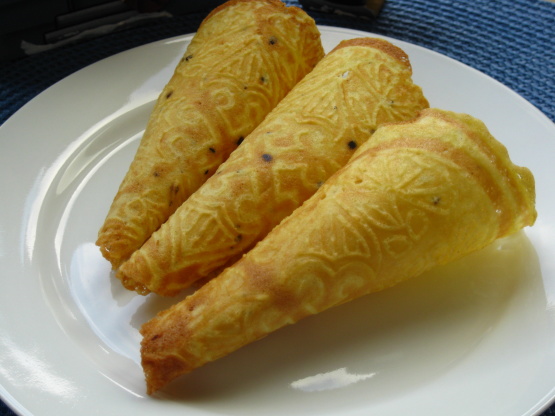 This is DH's great-grandmother's recipe who came from Sweden. Buy fresh cardamon, remove husk, put seeds into plastic bag, and use a hammer to smash on concrete floor-MIL's method. DH and I use an electric krumkake iron for 25 to 30 seconds depending upon how dark you prefer. This makes about 38 krumkakes, the original made 100. After you cool them on paper toweling, store them in a cool dry location, and do not seal the container too tightly. DH and I use a tiny ladle to pour the batter into krumkake iron-the ladle size is a tad bigger than 1/8 cup.

I Got a Krumkake iron A year or so ago and for got about it, till I see that post you put up. I have been looking for a good old Krumkake recipe and I got it now Thank You WiGal Mmmm dette så godt ut....oppskriften ser veldig god ut.Her lages det alltid krumkaker til jul. Deilig også til 17 mai Ha en fin søndag og en flott 17 mai. (If that right ?) Any way, I will be Definitely keeping this on hand for the holidays and a lot more! If you like a mildly flavorful and crispy wafer-like cookie, this is it! Other flavorings can be added in addition to or instead of vanilla. You can even use this recipe to make your own ice cream cones. Easy and quick! Pipe them with whipped cream, So crispy and not too sweet. I did add just 1 tsp of nutmeg to the batter. Awesome! as suggested adding cardomn is traditional as is using almond instead of vanillia. All norwegian cookie recipes are based on butter sugar almond and eggs. Now I can do my happy food dance!! Thank you!!! Happy Cooking to you and y'all! PRMR 2013....Grpa
Mix altogether.
Preheat krumkake baker about 3 minutes.
Bake in electric krumkake baker, 25-30 seconds.
Roll into cone shape immediately.
Cool completely before storing.
I have never done this but have wondered if you could use same recipe except swap out the brandy and cardamon for limoncello? Or make a variation of a cannoli and stuff with cannoli filling instead?