This recipe came from an advertisement for Velveeta cheese in the March 1990 issue of Woman's Day magazine. Great served with chicken nuggets, broccoli florets, or baby carrots for dipping!
Directions
Cut the Velveeta into cubes. Place Velveeta, juice, and curry powder in a medium saucepan. Stir over low heat until Velveeta melts.
Serve warm with dippers - chicken nuggets and assorted veggies are great!
Most Helpful
This is pretty difficult for me to describe - when I first tasted it, I thought it was a bit strange (the curry and the pineapple made for odd bedfellows). However, I kept going back for more, even while I couldn't decide if I liked it or not. I think what I'm trying to say is that this dip is an acquired taste that I ended up enjoying a lot.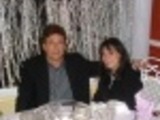 This was different but good. We had it with tortilla chips and with some carrots. It was better with the carrots.

This dip really did surprise me! I was pretty sure it would be good, but I didn't expect it to be as satisfying as it was! Got wonderful raves from a couple of guests, too! So simple to put together, too! I'll be fixing this the next time I host one of my monthly gatherings! Thanks for posting a great keeper! [Tagged & made in Please Review My Recipe]