Pamela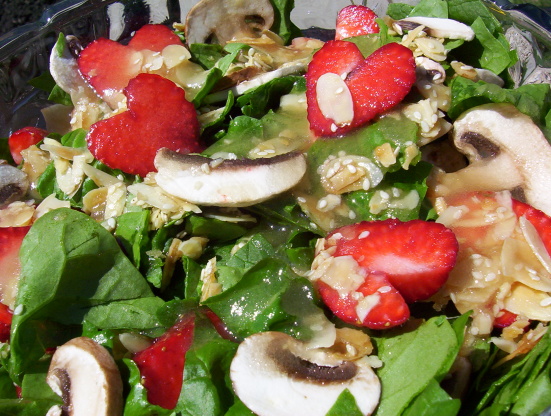 A great tasting salad that is a welcome change from the norm. Great for summer picnics and BBQs.

at first, it didn't sound appetizing. just something about strawberries and worcestershire sauce. this, however, is one of the tastiest salads i've ever had.
Wash and spin dry the greens, pinch off the stems and place in a beautiful bowl.
Choose strawberries with pointed ends. Cut the stem out in a wedge shape so that the strawberry looks like a heart. Slice the berries thin, maintaining the heart shape.
Thoroughly clean the mushrooms and slice thin and toss into the spinach.
Toast the slivered almonds and the sesame seeds and set aside.
Whisk together the sugar, Worcestershire sauce, vinegar, and olive oil. Add the onion and whisk well.
Toss into the salad, garnish with the toasted seeds and almonds and serve.