Huey's White Chocolate Mousse With Grand Marnier
ImPat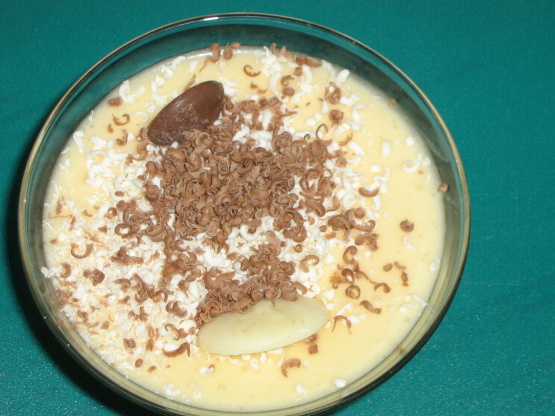 Another of Huey's recipes: this one he called Matthew's White Chocolate Mousse but I have no idea who Matthew is! Huey (Iain Hewitson) is a larger than life Melbourne restaurateur and chef who also features on his own extremely popular TV show. I have posted several of his recipes on Zaar. The preparation and cooking times below do not include the 2-3 hours chilling time and the 30 minutes recommended for allowing the mousses to come closer to room temperature. If you prefer your mousse colder, then this last 30 minute step could be omitted.

Top Review by ImPat
This was easy to make and gives 6 generous serves. The DM and the DS gobbled theirs down and the DH enjoyed it but was a bit disappointed that it wasn't set more and felt it was a bit sweet but still a nice dessert. Thank you bluemoon downunder, made for Everyday is a Holiday.
Gently melt the chocolate over a double boiler; then remove the pan from the heat and set aside for about 10 minutes.
Beat the egg whites and sugar with a hand mixer until the mixture forms soft peaks.
In another bowl, whisk the egg yolks until they become pale and fold them into the melted chocolate; gently mix with a wooden spoon.
Then fold in the egg whites, and then the cream until all the ingredients are well combined.
Gently fold the Grand Marnier and into the chocolate mousse mixture.
Transfer the mixture into a jug and pour it into 6 individual ramekins (or dessert bowls).
Place the ramekins or bowls onto an oven tray and refrigerate for at least 2-3 hours, taking them out about 30 mins before serving.
Serve the mousse garnished with sliced strawberries or your chouce of berries.