Huey's Italian Sausage Dog
Marlitt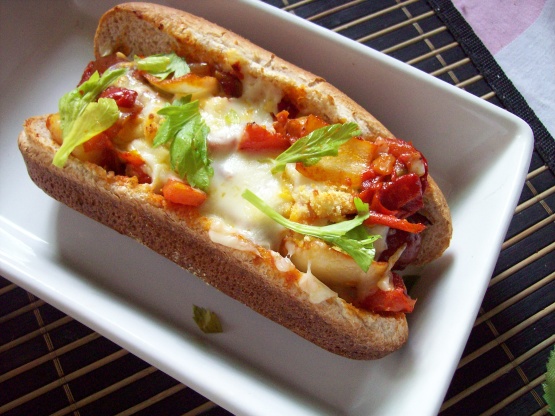 My adaptation of Huey's Italian version of the classic "hot" dog. Huey (Iain Hewitson) is a larger than life Melbourne restaurateur and chef who also features on his own extremely popular TV show. I have posted several of his recipes on Zaar.

I love Italian Sausage, so I knew I'd love this. I made exactly as directed, but when looking at the sauce I decided to scoop out some of the onions....my onion must have been much larger than bluemoon's onion! Even after taking half the onion out, I had too much onion. (This isn't the recipe's fault...onions are onions, they come in different sizes...mine must have been huge!) In the future, I will make some garlic butter, and baste the bun with it before putting the sausage on it. I'll leave out more of the onion and omit the olives...I just didn't think the olives were right for the taste of the rest of the dish. Made for Everyday is a Holiday tag!
Preheat the grill.
Blanch the sausages in simmering water until just firm to the touch; drain well.
Heat 1 tablespoon of oil from the capsicums in a large pan and gently sauté the garlic and onion until they have softened but not browned.
Add the olives, the capsicums, the tomato cooking sauce and the seasonings. Mix well and cook until thickish. Then stir in 8 torn basil leaves.
While the sauce is cooking, pan fry the sausages in a thin layer of oil in another pan until they are golden brown.
Then cut the two baguettes into three pieces about the length of the sausages; make cuts in the centre (but NOT right through) and insert a sausage topped with the sauce inside each piece of the baguette.
Place on the sausage-filled baguettes on a baking tray, top with cheeses and grill until golden and bubbling.
Serve with a garnish of basil.