jenne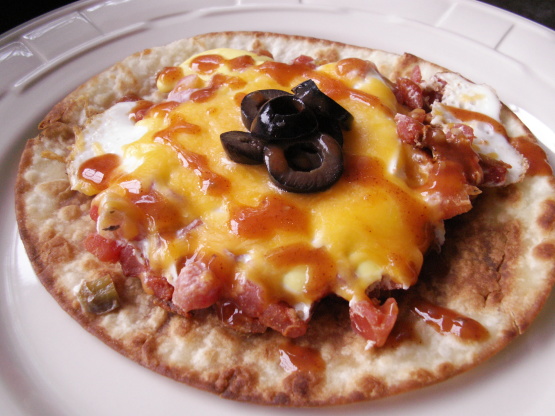 This is very quick and very easy. I eat this for breakfast at least once a week it is so tasty. the canned tomatoes with green chilies gives it a little kick. ENJOY!

This is fantastic. I added black beans and white corn, dropped the zucchini. I also put it over a bed of hash browns, instead of tortillas. I make the tomato/chilis/black beans/corn ahead of time and freeze it, then pull it out when we go camping. It's a great "stick to your ribs" breakfast!
Heat oil in non-stick skillet (lid needed) on medium heat.
Add zucchini and bell pepper and sauté 5 minutes or until golden brown.
Add in canned tomatoes, salt, and cumin.
Stir and heat through.
Meanwhile, heat up tortillas in microwave according to package directions.
Break egg into small cup or bowl.
Slide egg on top of tomato mixture.
Repeat with remaining eggs.
Cover and cook until eggs are done, or break yolks when half cooked, cover until done.
Sprinkle cheese over eggs, cover until melted.
Serve one egg and 1/2 cup tomato mixture on top of one or two tortillas.
Sprinkle 1 tablespoons cilantro on each serving.