Susang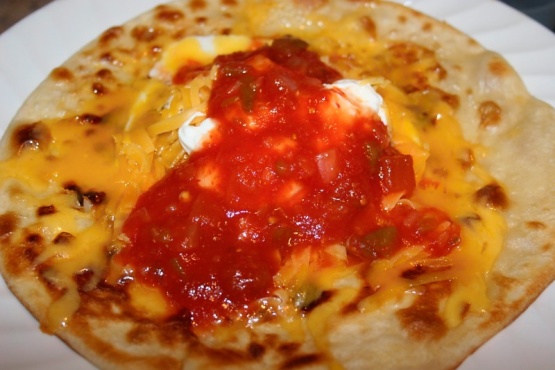 This is so simple I feel guilty calling it a recipe, but it sure is delicious. This is my breakfast staple going on 3 years now.

a lovely spicey breakfast, totally enjoyed it
1

tablespoon canola oil or 1 tablespoon nonstick cooking spray

1

large flour tortilla (plain or flavoured. I use tomato)

2

large eggs

1

tablespoon water
1⁄3 cup salsa (the thicker the better. May add more or less)

4

dashes hot sauce (optional)
1⁄2 cup cheddar cheese, grated
Set oven to broil (500F).
Spray large frying pan with cooking spray, or heat oil. On medium heat, LIGHTLY fry tortilla on both sides. Tortilla should be slightly browned, but not crispy. Set aside on oven safe plate.
Respray frying pan, and fry eggs until bottom of whites are just cooked. Add 1 tbsp water to pan and cover with lid. cook eggs approx 30-40 seconds. Eggs should be opaque, but not completely cooked.
Transfer eggs on top of tortilla.
Spread salsa on top of eggs. Be careful not to break the yolks.
Add several dashes of hot sauce (optional).
Cover with grated cheese.
Place under broiler for approx 5 minutes (time will vary with different ovens). Remove when cheese is thoroughly melted, and tortilla and cheese are both suficiently browned.