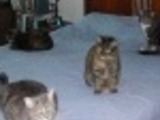 What makes huevos rancheros good? The salsa of course! This recipe was developed by Chef Traci Des Jardins, cut out of an article in the New York Times food section. Tomatillos look like little green tomatoes in husks. If you don't have any available where you live, use a cup of salsa verde (green salsa) and adjust the additional heat downward accordingly. I've tried it both ways. You will also like these if made with your favorite canned salsa. The salsa recipe is posted elsewhere.
Directions
Preheat oven to 450 degrees.
Place chipotle pepper and jalapeno pepper in small saucepan and cover with water. Bring to a boil and turn off heat. Set aside until chipotle is softened, about 30 minutes, and drain. If you want a milder salsa, seed peppers.
Meanwhile place tomatillos and tomatoes in a shallow metal baking pan and roast in oven for 15-20 minutes and remove without turning off oven.
Transfer to a blender and add drained peppers (you might want to start with half a pepper each and adjust according to taste) and oil, oregano, marjoram, lime juice, salt & pepper and cilantro, if desired. Blend well until smooth.
Place tortillas on a large baking sheet and spread evenly with cheese. Bake about 3 minutes.
Meanwhile, cook eggs to taste (scrambled, fried or poached).
Place an egg on each tortilla, and top with a generous tablespoon of sauce, onions, parmesan cheese and cilantro if desired.
Reviews
Most Helpful
Yummy! The sauce was really good, with a great zip. I used a canned chipotle chile, so just threw it directly in the blender. I just realized that I halved the rest of the recipe except I used a whole chipotle chile... no wonder it had a wonderful kick :) It made plenty of sauce; I still have plenty left to use later this week :D I omitted the salt (personal preference). Thanks for sharing!

Woops, I used too many tomatillos. That's ok because it was spectacular & not too hot. I did use a dried chipotle & removed the seeds. This is a great recipe & will be made again! I'm thinking of other ways to use the sauce. :) I skipped the cilantro, too. Blech. Everyone loved it but my 8 y.o. dd. *sigh*
I've never had huevos rancheros before- it was good! I would have had seconds if I wasn't already full. I did tone down the heat in the salsa and omit the cilantro...