Huevos Chorizo Scramble (Chorizo & Eggs)
jenne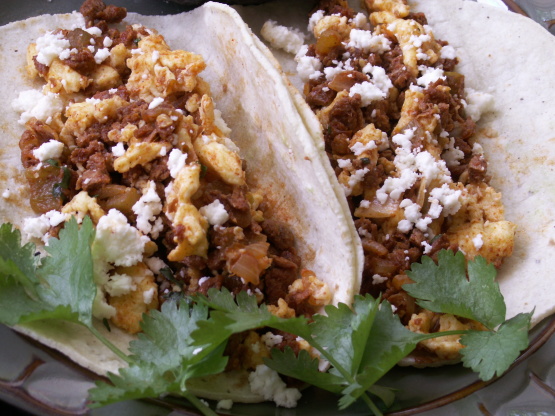 This spicy eggs and chorizo can be eaten with tortillas or served rolled inside the tortilla to make a burrito breakfast. Serrano chilies are very hot, you can substitute Jalapeno. Posted for ZWT5.

DH made this recipe for us for brunch yesterday. It was very easy to prepare and came together quickly. It had good flavor but the texture was a little dry (maybe it was the way we prepared it?). We halved the recipe and used monterey jack cheese. I would suggest using a really good salsa for this recipe and making sure the cheese and salsa are at room temperature before serving--straight from the fridge can make the dish seem a little cold. Made for ZWT5. Thanks!
Heat chorizo in oil, fry until browned, drain off any excess oil; add onion cook 2-3 min., then add chilies.
Beat eggs well and cook scrambled style in a medium sized skillet,when almost done, fold in cheese, chorizo mixture & lastly cilantro leaves.
The meat/egg mixture can be served as is with avacado and salsa on the side or rolled in a flour tortilla, burrito style garnished with avacado & salsa.