Huer Huero Road Green Chili
teresas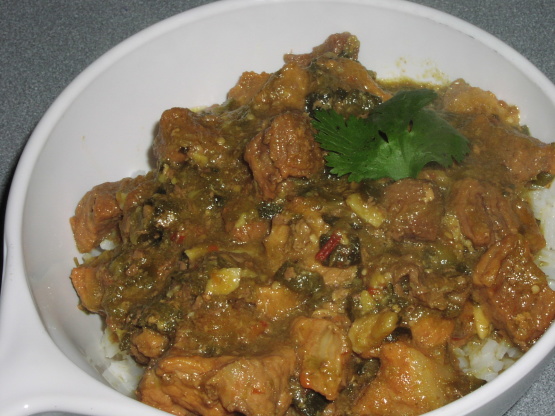 This recipe is from a friend in a little town on the central coast of California and is named for the river (usually a dry bed) that runs through the town. It is supposed to be a 100 year old recipe from Cochise County in Arizona. Although the ingredients and method of making the chili looks a little strange, it turns out absolutely wonderful. It won first prize in the town's chili cook-off in 2007. I find it easier to dice the meat if you partially freeze it first.

Delicious! This takes a while to get it all put together but once it is simmer on the stove it is so worth it. The meat comes out so tender. I used the sazon goya seasoning . Served it over rice and tortilla on the side. I had leftovers that worked great rolled up in a tortilla for a quick lunch. Thanks for posting. :)
3

medium onions, diced

2

lbs beef, diced

1

lb pork, diced

4

large pasilla chiles, diced

6

medium jalapenos, diced

8

large tomatillos, diced
chili powder, and or sazon goya
In a dutch oven or large pot, layer the onions. Put the meat over the onions.
De-vein and seed the chilies before dicing. Add all the rest of the ingredients over the meat except the salt.
Cook on low heat for 1-1/2 hours. Add salt to taste. Add chili powder and/or sazon goya if you want. Cook on simmer for another 30 minutes.
Serve with shredded cheese on top and warm tortillas.