Hudson's Bay Bread (Homemade Granola Bars)
alligirl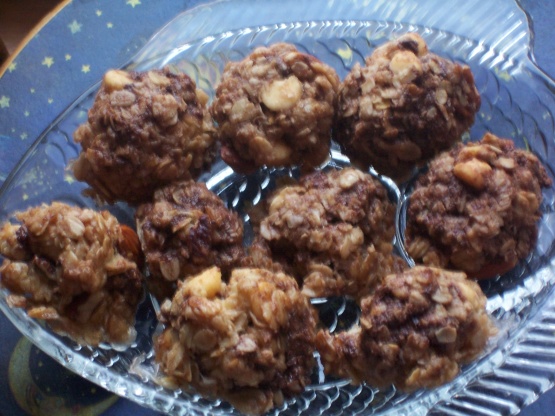 I can't explain how good these are. They are perfect snacks for camping/hiking trips. a great thing about them is that you can add or take away some ingredients, like the peanuts. I like to put in mini m&m's. My husband loves this stuff, but tells me I can only make it once a year, usually during the summer when we go on a big camping trip, mainly because of it's fat/sugar content - you have to be careful with this stuff- it's addicting! and I'm not sure about the servings, i just guessed :) UPDATE: Sorry about the typing error with the heating times, it is correct now.

The taste for this is 5 stars, however, I was confused by the temperature differences, between pre-heating and cooking, and wasn't really sure what temperature this should be cooked at...That said, I really loved the way they tasted, and wasn't willing to give up on them. I halved the recipe, and added 1 cup of semi-sweet morsels, 1 cup of white chocolate morsels, 1 cup of whole almonds (for texture) and 3/4 c. chopped pecans, for personal preference. I mixed the ingredients up, as directed, but when I went to put in the oven, the recipe said to bake at a different temperature than it had been pre-heated to; I waffled, and put it in, as stated, and dropped the temperature. It came out, and I was hoping it would stick together, but, that didn't happen. I ended up squeezing them into balls, as Pneuma mentioned, and re-baking them for about 20 minutes at 275 degrees. That seemed to be the ticket! They are so yummy! My DS (5 y.o.) wanted 2 for dessert tonight. One of the highest compliments, IMO. Thanks for sharing, cookin_nurse. Made for Fall PAC '09.
preheat oven to 350.
in a large bowl stir all the ingredients together.
Press 1/2 inch thick onto a 9x18 inch cookie sheet.
bake at 350 for about 15 minutes, until the mixture is bubbly,
Remove from oven and let cool (this is very important, it will become very crumbly if you don't allow it to cool completely)
Cut into small pieces and enjoy!