Hubby's Favorite Onion Rings
Jacob Q.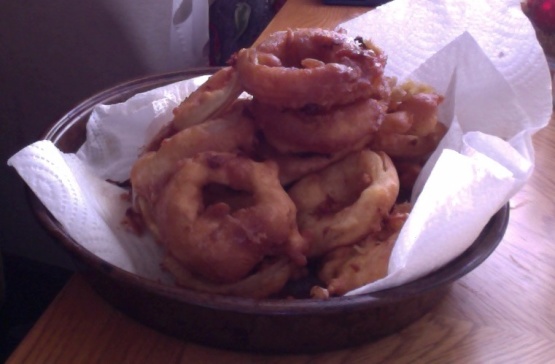 These are my hubby's favorite onion rings (and mine too.) They are really simple, and very fast to make. The onion rings are puffy and crispy, and a beautiful golden color. Great with cheeseburgers or brats.

We really liked these rings. I did thin the batter down a bit with some H2O but otherwise followed the directions. My family loved them. We didn't think they were too bready, but we like that anyway. I was worried about the batter sticking without flouring the onions first but it worked like a charm. Thank you for sharing this yummy ring recipe.
Peel onions, cut into 1/4 inch slices, and separate into rings.
Combine dry ingredients; stir well.
Add eggs, milk, and 1 teaspoon oil, and beat until mixture is smooth.
Dip onions into batter; fry in deep hot oil (375 degrees F) until golden brown.
Drain on paper towels.