DJoy5847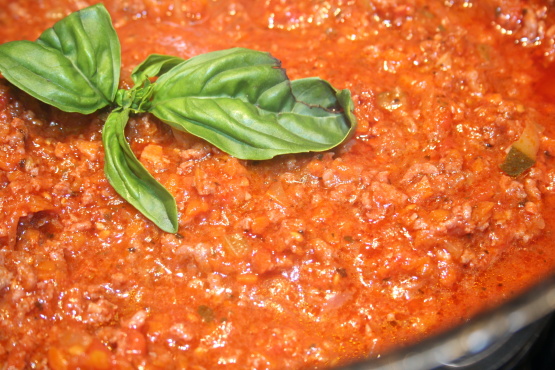 My husband is the only one allowed to cook pasta bolognaise in our house. He has the patience--I don't! This recipe was his mother's and that came from her mother--an old family favourite.

Such an easy recipe. Now I have the prefect recipe to get hubby to eat more vegetables. Put the extra in ziplock bags and popped in the freezer.
Pulse all the veggies in a blender until they are chopped fine.
Do the same with the bacon.
Heat olive oil in a large frying pan and sauté the veggies until onion and celery are transparent.
Add the bacon and cook for 3 minutes.
Add the minced meat and cook until well browned.
Add the tomato paste, basil and oregano; cook for 2 minutes to let the flavour of the herbs and paste come out.
Add the canned tomatoes including their juice.
Dissolve the beef bouillon and sugar in the water and add to the pan.
Simmer for 1 hour or until the sauce is thick and not runny. If the water evaporates too quickly, top it up as the long cooking is what makes this taste great.
Serve over cooked pasta of your choice or layer with lasagna sheets and a good bechemal sauce for a yummy lasagna.
For adaptation to crockpot: Brown mince and onion then add all ingredients to crock pot and cook on low for 5 hours or more.