Hubbard Squash and Orange Puree
Bergy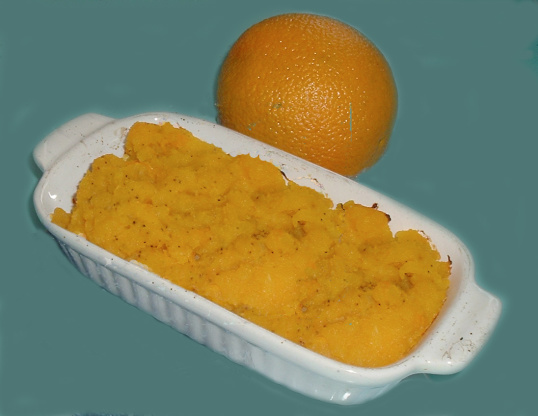 If you can find pieces of this beautiful blue-skinned squash at your market, this is a fragrant and brilliantly orange-colored way to use it. From Rozanne Gold, a favorite cookbook author.

This was very good and very easy! I added a few shakes of nutmeg. I also thought about adding just a touch of cream to see what that did, but didn't. Maybe next time! (Also I used butternut squash, very creamy and good)
2

lbs hubbard squash, any seeds and membrane removed
1⁄4 cup water

2

teaspoons grated orange zest

2

tablespoons fresh orange juice

2

tablespoons unsalted butter, cut in small pieces
salt & freshly ground black pepper
Preheat oven to 400°; place unpeeled squash flesh side down in baking pan; pour water over squash; bake 30 minutes, turn over and bake another 30 minutes or until squash is tender and lightly carmelized.
Scrape flesh off skin and puree in a food processor until smooth; add orange zest, orange juice, butter, salt and pepper; process to combine and serve warm.