How to Sprout Wheat Berries
Dawnab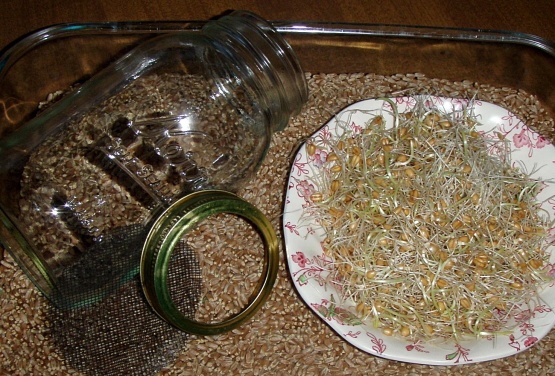 Wheat berries, also called soft wheat, are found in the health food stores and in some grocery stores. This is a good basic recipe for srpouting. When sprouted, they have a wonderful sweet taste. The sprouts should get 1/3"- 3/4" long. These are great in salads, bread, as a snack, and in stir fry. Enjoy! When I cant' find cheesecloth, I cut up a washcloth into 4 squares. One square works great! Cook time is sprouting time. Adapted from the cookbook Fresh!

Top Review by Dawnab
This is one of the most fun recipes I have made in ages. It made a HUGE amount of sprouts that went great on a sammich and in a salad. The best part is it opened loads of options for sprouting all kinds of seeds, can't wait to try it some more. I used a piece of nylon screen that I cut to fit the jar lid and I can wash and reuse as needed. It was cool to watch them grow before my eyes!
Plaace 1/4 cup wheat berries in a quart canning jar(or similar regular jar) and fill with lukewarm water.
Place a double thickness of cheesecloth over the mouth and secure with jar ring or rubber band.
Drain water through the cheesecloth, fill again, and let soak for 2 hours.
Drain, rinse again and drain.
Place jar on it's side in a dark place.
Rinse and drain twice a day for 2-4 days, or until 2 cups of sprouts are formed. Place the sprouts in a colander, rinse with cold water, drain and store in a plastic bag in the refrigerator. Enjoy!