PaulaG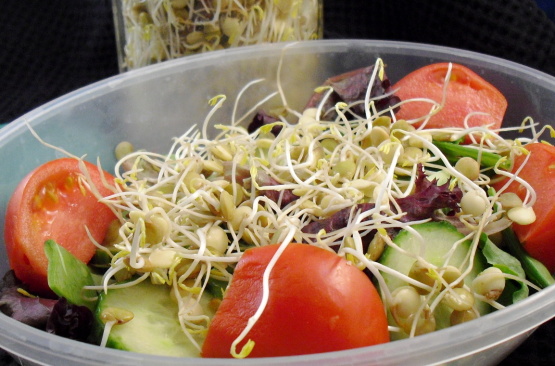 These are so easy to make and are so good for you! Lentil sprouts contain Vitamins: A, B1, B2, B3, B5, B6, B12, B15, B17, C, K, choline, folic acid, inositol, PABA Minerals: boron, calcium, chlorine, copper, iron, magnesium, molybdenum, phosphorus, potassium, selenium, sodium, sulphur, zinc The amounts are loosely given. I love them over salads, but are good snacks on their own. Cook time is sprouting time.

I didn't have a cheesecloth so I simply covered my mason jar with a coffee filter and screwed the lid on so that the beans could breathe. When draining, I simply put a wire mesh strainer over the top of the jar and inverted it to get all the liquid out. I'm currently on day 2 of the sprouting process and I already see little sprouts peeping out of the beans. I'm very excited to see how this will turn out!
Place lentils in a quart jar and cover with 2 cups water .
Cover the top of the jar with cheesecloth(sometimes I use a clean thin washcloth) and secure with a rubber band.
Let sit in water overnight(12 hours).
The next day drain off water.
Rinse and drain once or twice daily and keep out of sunlight.
On the third day (some people wait till the 4th) you will have sprouts with about a 1/4-1/2" tail on them. They are ready!
Place in glass jar or plastic jar or bag.
They shouldn't be too wet. I use the jar that I used to sprout with.
Keep in fridge.
Use on salads, as a snack, in stir fries, ground up in spreads. When I'm halfway through the jar I start a new one. Enjoy!